New original glasses by Dazzle, designed and produced in Europe

, f

or use during day and night. Amazing for driving on rainy days, during fog and especially at night time.

These Dazzle glasses help to improve your night vision making it more comfortable to drive in hard situations. With theses specially developed night lenses it makes your vision appear so much clearer making those times that are hard more easer.
1. View without glasses

2. View with glasses

Improve and enhance your vision giving you more safety on the road.
These original Dazzle glasses will give you:
100% safe UV400 protection

Reduces tiredness and headaches

Helps quality of night vision

Very elegant European design

Amazing quality and very comfortable to where
These glasses come with a drawstring case.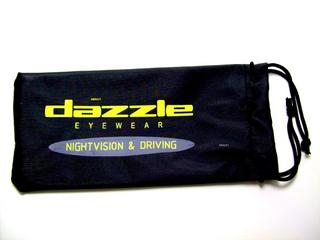 On these original Dazzle glasses there is a small engrave on the left top edge of the lens displaying that this product is original.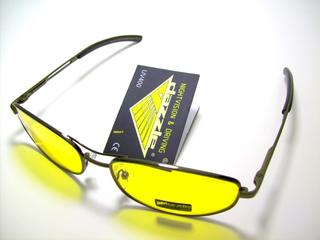 These glasses are so versatile with a unsex design they are suited for everyone and can be used for a variety of purposes weather you're biking, hiking, driving, riding a bike, hunting & shooting, etc.
We make sure each pair is backed by a personal inspection before being shipped to you. We guarantee that you will be satisfied with your purchase or your money back! We are 100% confident you will be pleased with our exceptional quality.